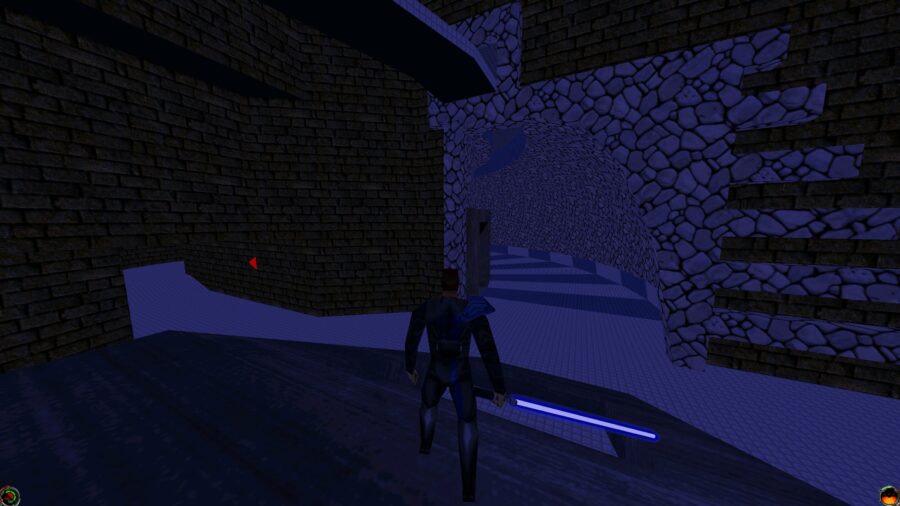 Version
Download

13

File Size

7.21 MB

File Count

1

Create Date

September 10, 2021

Last Updated

September 10, 2021
Changes in v3.1:
Fixed SBX copyright date.
Nice new SBX logo for the Multiplayer background.
Field Light, IR Goggles, Change Lightsaber Color, Lightsaber Damage Toggle, and Light Motion Trails Toggle are now in your item inventory. You must go through your inventory to use these now; none of them have hotkeys anymore. I left those for the important stuff: Force Saber Throw, Force Push, Evasion/Kick, Saber ON/OFF Switch, and Lightsaber Stance.
Force Saber Throw and Push are now neutral bonus powers. Force Throw and Speed are back and Saber Throw and Push have their own hotkeys. You can't assign stars to Push or Saber Throw; you get them (with four stars) as long as you have SOME Jedi potential. In other words, the uninitiated don't get these powers while all Jedi levels 1-8 do in SP and MP automatically. Also, I changed the mana cost values so that all Jedi levels can use these powers (although very little in the lower levels, and can't be overused anymore in higher Jedi levels).
A Sith Talisman replaces the cheap and annoying Super Shield powerups. It enables the holder to have 15 seconds of total Force immunity (excluding Force Throw) and magnetic seal (to deflect lasers), although it eats up all your mana (if you have any) due to the draining properties of Dark Side magic.
Dark and Light Surges now only give you full mana (instead of infinite mana for 30 seconds AND full mana as they do normally).
Renamed new sabers to their correct names. I also renamed a few hotkeys slightly to be more optimal (like Increase viewsize is now Increase View Size, Thermal Detonator and Sequencer Charge are plural, Slow = Walk, Fast = Run, etc.).
Added a skin of Callista Ming, Luke's previous love interest. I also added Luke's final love interest, Mara Jade, and I replaced many of the Jedi skins with versions that are better. Yoda is in there now too-he's pretty much the right height, too. Additionally, I made a new Exar Kun skin since the old one was rather bad and made two versions of a new character named Angel. Finally, I touched up and fixed several other skins here and there that I overlooked in SBX3, re-added Bar Tender and Hal, renamed Solomon to Mikos, tweaked Dragon as per his request, and fixed all the 16-bit MATs so they don't turn black from afar.
Recorded some new Sith lightsaber sounds directly from the Episode I DVD digitally via GoldWave, tweaked 'em to death, and ended up with a much more fierce-sounding weapon with more bass-like the movie.
Added bass to all the single-bladed lightsaber swing/activate/deactivate sounds for balance.
Rearranged and balanced (volume/bass/treble-wise) the lightsaber wall and saber clash sounds so there aren't any useless or redundant sound files. Also, I brought back one of the original wall hit sounds because it provides more continuity in saber-to-wall collisions.
Force Destruction can cause damage to oneself for realism.
Force Blinding has a more powerful effect although it doesn't last as long.
Several other bug fixes and tweaks.